Iris - mail server integration package
Based on Exim MTA, Dovecot IMAP server, MySQL, Perl, Clamav, SpamAssassin, Roundcube webmail.
Download
Features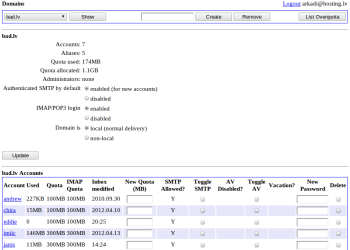 Single server in this configuration is able to handle multiple independent domains with separate sets of users and aliases.
Accounts maintenance is performed via web interface.
Super-user(s) can modify everything. Selected users are allowed to modify domain(s) assigned to them, within limits set by configured quota.
Malware is stopped at SMTP time by rejecting delivery instantly, based on the decisions made by antivirus and antispam software, supplemented with RBL.
Accounts are monitored for space usage and e-mail delivery is deferred in case of over-quota condition.
Vacation auto-responder is careful to whom and when it sends replies to and is end-user controllable via Roundcube webmail vacation plug-in.
IMAP/POP3 logins could be restricted for selected domain, preserving accounts and uninterrupted incoming message delivery.
In preparation to move particular e-mail domain to the server, the domain could be hidden from MTA, and then made visible on the flip of a switch, after initial configuration is performed.
The system is used in a medium size installation - 1000+ active e-mail accounts - and proven to be reliable, low TCO solution.